Warum Kartäuserinnen Stola tragen
Zur Übergabe der Stola an Kartäusernonnen bei der Jungfrauenweihe nach der "Pratique de la bénédiction et consécration des Vierges" von 1699 und dem "Rituel Cartusien de Consecration des Vierges" von 1986
Schlagworte:
Carthusian Nuns, Consecration of Virgins, Stole, Baptismal Priesthood, Deaconess, Diaconate of Women
Abstract
Nuns of the Carthusian Order receive a stole at their consecration as virgins. Initially, this rite was practiced only in individual houses, but in 1699 it was extended to the entire Order, and this remains the case even today. Since the liturgical reform following the Second Vatican Council, Carthusian nuns even wear the stole at certain liturgical functions. This article presents the rite of reception of the stole at the consecration of virgins according to the Pratique de la bénédiction et consécration des Vierges of 1699, which was used in the Carthusian Order until the liturgical reform, as well as the Rituel Cartusien de Consécration des Vierges of 1986, which is used today. It attempts to interpret the rite in light of the way of life of the Carthusian nuns, and to propose a model of diaconal service for women.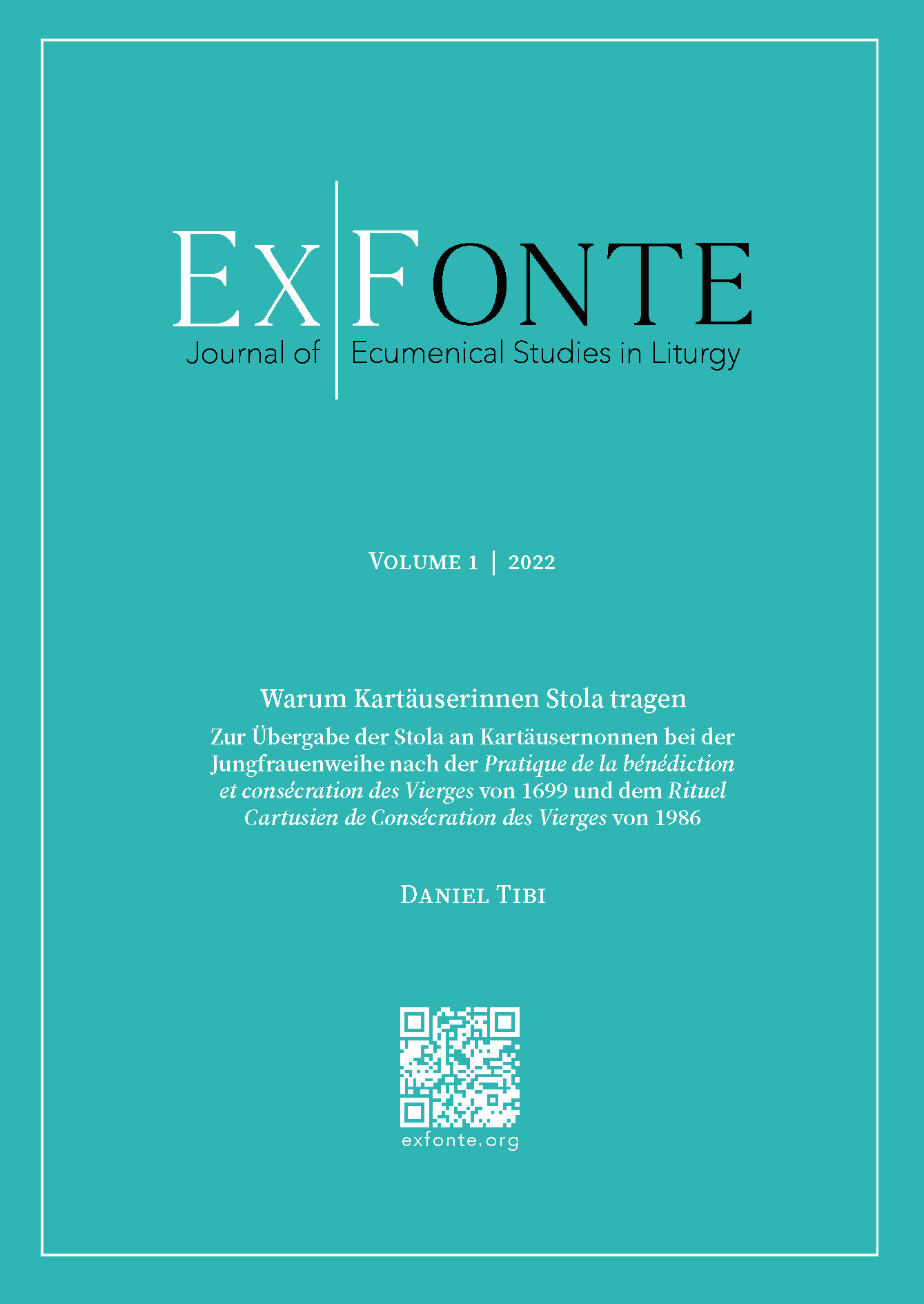 Downloads
Zitationsvorschlag
Tibi, D. (2022). Warum Kartäuserinnen Stola tragen: Zur Übergabe der Stola an Kartäusernonnen bei der Jungfrauenweihe nach der "Pratique de la bénédiction et consécration des Vierges" von 1699 und dem "Rituel Cartusien de Consecration des Vierges" von 1986. Ex Fonte – Journal of Ecumenical Studies in Liturgy, 1, 169–190. https://doi.org/10.25365/exf-2022-1-6
Lizenz
Copyright (c) 2022 Daniel Tibi
Dieses Werk steht unter der
Lizenz Creative Commons Namensnennung 4.0 International
.